About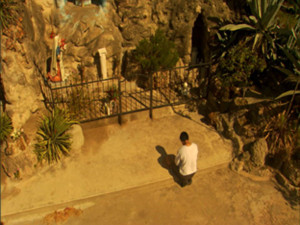 HARVEST OF REDEMPTION is a powerful and touching story inspired by true events depicting the lives of two racially diverse families whose worlds collide when one of them is faced with the brutal tragedy of murder.
Oscar Escobedo is a vibrant young boy born to a humble family of migrant farm workers.  His father Pedro works as the foreman for the farm of a wealthy and politically affluent family, the Wilkens.  Although the Escobedos and Wilkens never speak, Oscar and the young Wilkens boy Sonny become best friends, still too naïve to be affected by their differences in race. One day, the Wilkens and Escobedos finally exchange words, but they are not peaceful.  The two young boys witness a heated debate between their fathers that comes to a tragic end.  Mr. Wilkens shoots Pedro in cold blood, leaving Oscar devastated by the tragic memory of the murder of his father.  This marks the event that forever divides a friendship between two young boys, fallen victims to the fierce misconceptions, discriminations, and prejudices infecting people of their time.
Although the evidence was plain, Mr. Wilkens was never indicted, tried, or punished for his crime, leaving Oscar a bitter, angry, and resentful child.  As he grows up, Oscar he is not only forced to face the challenges of manhood, but also confront the haunting demons of his past.   In his personal battle, Oscar finds and loses faith, finds and loses hope, and finds and loses love. Fifteen years later, he returns to the destination of truth………but will it be to forgive?
Oscar's decision to attempt to get even with the man who killed his father triggers fatal repercussions that he must live with for the rest of his life, bringing to light the realization that sometimes the borders that divide us are actually within ourselves.  In the end, he will walk away with a lesson that no father can teach a son, but rather one that a son must learn himself. At the heart of this lesson is redemption, a harvest of redemption.